Presentation
Welcome to the website of the yellow train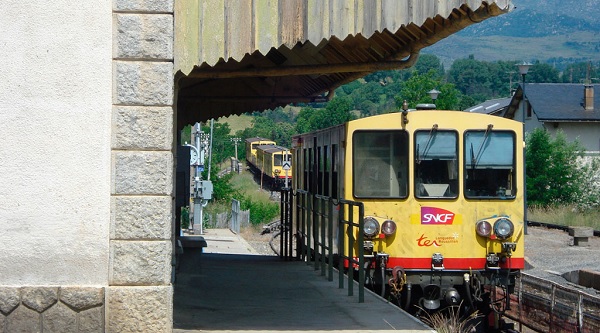 It is also called "train jaune", or "p'tit train de Cerdagne", or affectionately "Canary". It is so called because of the yellow colour of its compositions.
The yellow train is a metre-gauge line owned by the RFF (French Railway Network) and operated bu the SNCF (French Railways) through the regional management TER Languedoc-Roussillon.
It connects the regions of Cerdanya and Conflent in Northern Catalona from the stations of Latour de Carol-Enveitg to Villefranche de Conflent. Both stations guarantee passenger transfers with iberian gauge and standard gauge lines (to Barcelona, Toulouse and Perpignan).
The train uses the current provided by the cascade of power stations of the "Barrage des Bouillouses" (2011 m. d'altitude) for its power supply by means of a third rail. This cascade provides the containment for all the small hydroelectric power stations that are below its level in the course of the river Tet.
 
---
After more than three years, the Perpignan-Villefranche line was reopened on 16/11/2020. More information: l'Independant
---
English